Crispy quinoa and panko crumbed fish
with tartare sauce, potato chips and a lemony beetroot slaw
RECIPE FACT:
A Jewish immigrant, Joseph Malin, opened the first recorded combined fish-and-chip shop in London in the 1860's.
Nutritional Info:
Energy: 3056kj (730Kcal)
Protein: 29g
Carbohydrate: 47g
Fat: 50g
Contains: Fish, Egg
Serving Amount:
Serves 2 people
Cooking Instructions:
Before cooking

Preheat the oven to 200°C (fan bake).

1. TO COOK THE POTATO CHIPS:

Place the steamed potato chips onto an oven tray lined with baking paper. Drizzle with olive oil and salt and pepper and roast in oven for 22-25 mins.

2. TO PREPARE THE WINTER SLAW:

Empty the sliced red & green cabbage and grated beetroot into a serving bowl. Just before serving add the lemon dressing and season with salt and pepper and toss to combine.

3. TO PREPARE AND COOK THE FISH:

Remove the tarakihi fillets from their packaging. Rinse under cold water and pat dry with paper towel. Cut each fillet into 2 pieces. Season 2-3 tbsps of GF flour with some salt and tip onto a plate. Break egg into a shallow bowl and whisk with a fork. Spread GF breadcrumbs on a plate. First dip fish fillets in GF flour mix and shake off excess, then dip in egg mix and allow excess to drip off. Finally roll in breadcrumbs to coat well. Heat 1 tbsp of butter and 1 tbsp of oil in a non-stick frying pan over a medium-high heat. Once the butter and oil are sizzling, add the fish fillets and cook on each side for 2-3 mins until golden.

TO SERVE:

Place potato chips and winter slaw onto plates then top with fish fillets. Finish with a good dollop of tartare sauce.
Ingredients
In your box:
1 pack of tarakihi
1 pack of steamed potato chips
1 pack of GF breadcrumbs
1 pot of tartare sauce
1 bag of sliced red & green cabbage
1 bag of grated beetroot
1 pot of lemon dressing
SHARE YOUR CREATION WITH US!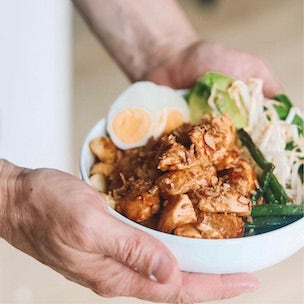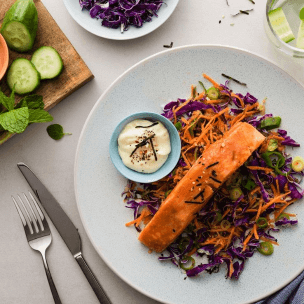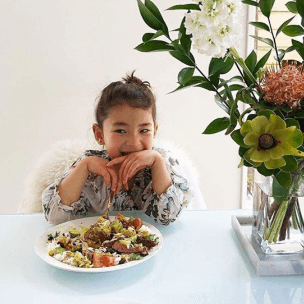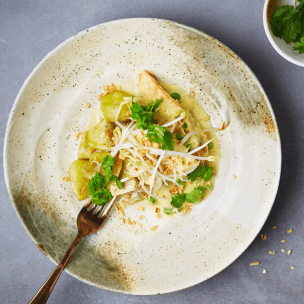 use the hashtag #woopnz to be featured