Crispy cajun chicken
with apple and almond slaw
RECIPE FACT:
Ranch dressing can be very heavy, and calorie loaded. Ours is made with a yoghurt base for a lighter version.
Nutritional Info:
Energy: 2041kj (487Kcal)
Protein: 37g
Carbohydrate: 17g
Fat: 28g
Contains: Tree Nuts, Milk, Egg
Serving Amount:
Serves 1 person
Cooking Instructions:
Before cooking:

PREHEAT THE OVEN TO 200⁰C (FAN BAKE). BOIL THE KETTLE.

1. TO COOK THE CHICKEN:

Remove the free-range chicken thigh from its packaging and pat dry with paper towel. Arrange the thigh on an oven tray lined with baking paper and spray with oil. Sprinkle over Cajun spice blend. Cook in the preheated oven for 18-20mins.

2. TO COOK THE BROCCOLINI:

Pour boiling water into a medium pot from the kettle and place over a high heat. Trim the ends off the broccolini. Once the water is boiling add the broccolini and blanch for 2-3 mins. Drain into a colander.

3. TO MAKE THE APPLE AND ALMOND SLAW:

Place red and green cabbage into a salad bowl. Thinly slice the spring onion on the diagonal. Finely slice half the apple. Finely chop the curly parsley. Mix the apple, spring onion and half the parsley through the red and green cabbage with the ranch dressing. Sprinkle over toasted almonds.

TO SERVE:

Arrange broccolini on a plate and top with Cajun chicken pieces. Serve apple and almond slaw on the side. Sprinkle over rest of the parsley.
Ingredients
In your box:
1 pack of free-range chicken thighs
1 sachet of Cajun spice blend
1 pot of ranch dressing
1 sachet of toasted almonds
1 bag of red and green cabbage
1 bag of broccolini
1 apple
1 spring onion
1 bag of curly parsley
SHARE YOUR CREATION WITH US!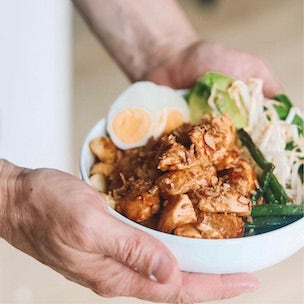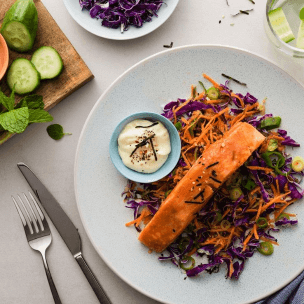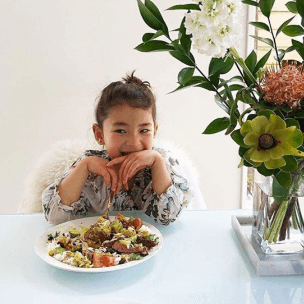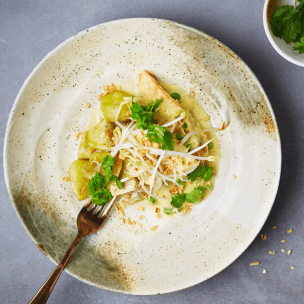 use the hashtag #woopnz to be featured