Creamy pork and mushroom marsala
RECIPE FACT:
Did you know, Sicily is home to the largest opera house in Italy.
Nutritional Info:
Energy: 3940kj (941Kcal)
Protein: 38g
Carbohydrate: 80g
Fat: 48g
Contains: Gluten, Egg, Milk, Sulphites
Serving Amount:
Serves 4 people
Cooking Instructions:
1. TO COOK THE FETTUCCINE:

Bring a medium pot of water to the boil over a high heat and season with salt. Once boiling add the fettuccine and cook for 3 mins. Drain reserving some of the cooking water to add to the marsala sauce if needed.

2. TO COOK THE PORK MARSALA:

Remove the diced pork from its packaging and pat dry with a paper towel and season with salt and pepper. Thinly slice the button mushrooms. Heat 2 tbsp of olive oil in a non-stick frying pan over a medium high heat. Add the pork and brown it for 3-4 mins. Once the pork is browned remove from the pan and set aside in a bowl. Return the pan to the heat and add the mushrooms. Brown for 3-4 mins and then return the pork to the pan along with any juices. Stir in the creamy marsala sauce and bring up to a simmer, reduce the heat and cook for 3-4 mins until pork is cooked through. Add the fettuccine and a little of the cooking water if the sauce is reducing too quickly. Lastly stir in the baby spinach and remove from the heat. Season with salt and pepper to taste.

3. TO PREPARE THE PARSLEY:

Pick the leaves from the Italian parsley, discard the stalk and roughly chop.

TO SERVE:

Twist fettuccine into bowls and spoon over the pork and mushroom marsala. Sprinkle over the shaved parmesan and chopped parsley.
Ingredients
In your box:
1 pack of diced pork
1 punnet of fresh fettuccine
1 pot of creamy marsala sauce
1 bag of button mushrooms
1 pot of shaved Parmesan
1 bag of baby spinach
1 bag of Italian parsley
SHARE YOUR CREATION WITH US!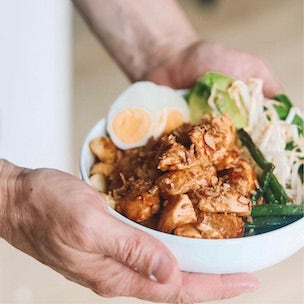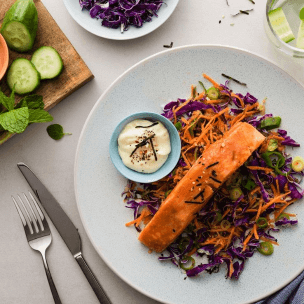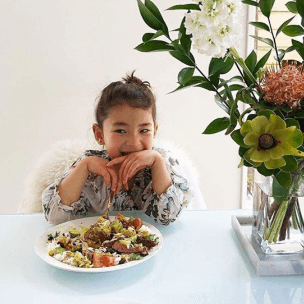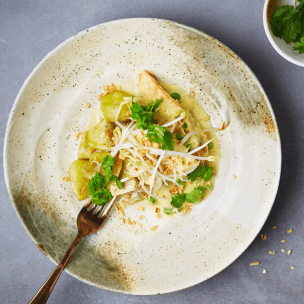 use the hashtag #woopnz to be featured