Creamy garlic roast chicken
with red potatoes, kumara, baby spinach and beans
RECIPE FACT:
New Zealand's hens produce 83 million dozen eggs a year
Nutritional Info:
Energy: 2636kj (630Kcal)
Protein: 36g
Carbohydrate: 43g
Fat: 36g
Contains: Milk
Serving Amount:
Serves 4 people
Cooking Instructions:
Before cooking:

Pre-heat the oven to 220°C fan-bake.

1. TO PREPARE THE VEGETABLES AND CHICKEN:

Dice the roasted peppers into 2 cm squares. Roughly chop the thyme discarding some of the harder stems. Trim the ends off the green beans and then cut them in half. Finely dice the garlic herb butter. Remove the chicken thighs from their packaging and pat dry with paper towel. Cut each thigh into 4 even pieces.

2. TO COOK THE ROAST:

Spread the baby spinach around a deep-sided oven tray lined with baking paper. Next layer in the steamed potato and kumara and roasted peppers. Add the butter and the coconut milk and then lay chicken thighs on top. Sprinkle with the thyme and season with salt and pepper. Place into the pre-heated oven for 28 mins.

3. TO COOK THE BEANS:

Place a medium pot of water over a high heat. Drop the beans into the pot of boiling water and cook for 2 mins. Drain into a colander, return to the pot and drizzle with a tbsp of olive oil. Season with salt and pepper and mix with tongs.

TO SERVE:

Spoon the creamy garlic roast chicken and vegetables onto each plate and top with green beans. Season with salt and pepper.
Ingredients
In your box:
1 pack of free-range chicken thighs
1 pot of garlic herb butter
1 carton of coconut milk
1 pot of roasted peppers
1 pack of steamed red potato & kumara
1 pack of baby spinach
1 pack of green beans
1 pack of thyme
SHARE YOUR CREATION WITH US!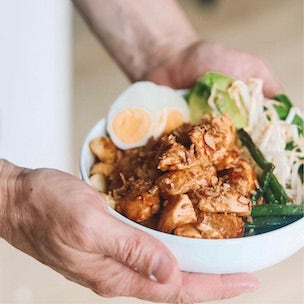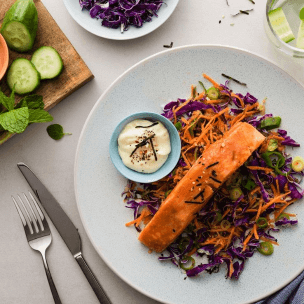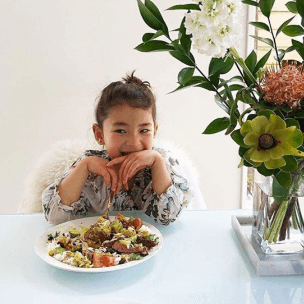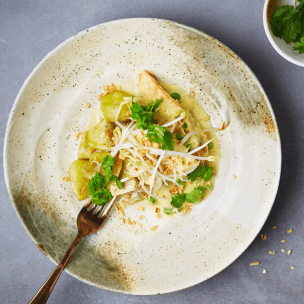 use the hashtag #woopnz to be featured