Corn and black bean patties
with silverbeet quioa and avocado drizzle
RECIPE FACT:
Quinoa is a seed and has twice the dietary fibre than white rice.
Nutritional Info:
Energy: 2783kj (665Kcal)
Protein: 20g
Carbohydrate: 58g
Fat: 28g
Contains: Milk
Serving Amount:
Serves 2 people
Cooking Instructions:
1. TO PREPARE THE CORN AND BLACK BEAN BATTER:

Roughly chop the coriander including the stalks. Place the black beans in a sieve and rinse under cold water. Drain well. Place the black beans in a bowl with the chickpea seasoning and mix with a fork, crushing some of the beans. Add 2-3 tbsps of water, half the coriander and the corn. Season with salt and pepper and mix well until combined.

2. TO COOK THE SILVERBEET AND QUINOA:

Slice the roasted red capsicum into ½ cm strips Slice the silverbeet into ½ cm strips discarding any of the white stalk. Place a non-stick frying pan over a medium-high heat with a drizzle of olive oil. Once hot add the capsicum and silverbeet and cook for 1-2 mins. Open the bag of steamed quinoa, squeezing gently on the bag to break up the large clumps. Add to the pan and cook for 2-3 mins. Remove from the pan and cover to keep warm. Just before serving add the remaining coriander, toss through the lime dressing and season with salt and pepper.

3. TO COOK THE CORN AND BLACK BEAN PATTIES:

Wipe out the pan and place back over a medium heat with 2-3 tbsps of olive oil. Divide the mixture into 4 patties about 1 cm and cook for 3-4 mins on each side until golden and cooked through – adjusting the heat if necessary.

TO SERVE:

Spoon silverbeet quinoa onto plates. Top with corn and black bean patties and dollop with avocado drizzle.
Ingredients
In your box:
1 tin black beans
1 bag of steamed white quinoa
1 pot of avocado drizzle
1 pot of lime dressing
1 sachet of chickpea seasoning
1 pot of corn
1 pot of roasted capsicum
1 bag of silverbeet
1 bag of coriander
SHARE YOUR CREATION WITH US!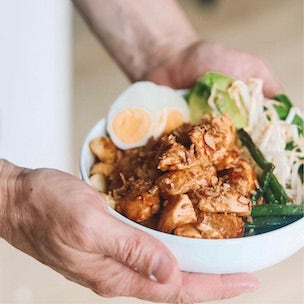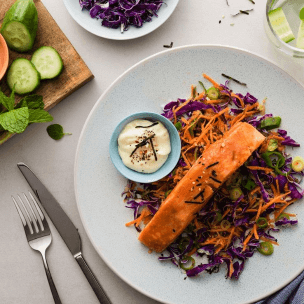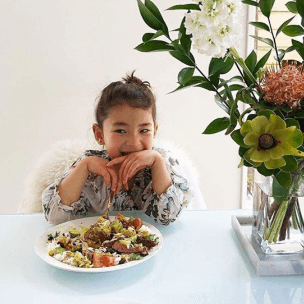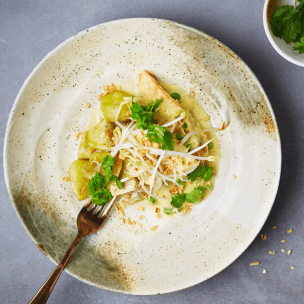 use the hashtag #woopnz to be featured