Coconut cashew fish curry
with pumpkin and green beans
RECIPE FACT:
There are more than 20 billion coconuts produced each year.
Nutritional Info:
Energy: 2467kj (589Kcal)
Protein: 34g
Carbohydrate: 66g
Fat: 25g
Contains: Fish, Tree Nuts
Serving Amount:
Serves 4 people
Cooking Instructions:
1. TO COOK THE RICE:

Empty the basmati rice into a medium sized pot with a tight-fitting lid. Add 500 ml of water to the rice. Place pot on stovetop and bring up to the boil over a high heat. Once the rice is boiling put lid on the pot and reduce the heat to low and cook for 12 mins. Remove from the heat and stand with the lid on for a further 8 mins. Remove the lid and fluff the rice with a fork.

2. TO COOK THE GREEN BEANS:

Bring a medium pot of water to the boil over a high heat. Trim the ends off the green beans. Once the water is boiling add the beans and cook for 2 mins. Drain into a colander, return to the pot and drizzle with 1 tbsp of olive oil. Season with salt and pepper to taste. Finely chop the coriander including the stalk which has lots of flavour and set aside.

3. TO COOK THE FISH CURRY:

Remove the tarakihi from its packaging. Rinse under cold water and pat dry with a paper towel. Cut the fillets into 3 cm pieces. Heat 1 tbsp of oil in a large frying pan over a high heat. Place the fish pieces into the pan and sear for 1 min before reducing the heat. Using a fish slice, flip each piece - being careful not to break the pieces up. Add the green curry and steamed pumpkin to the pan. Cook for 4 mins moving the pumpkin and fish gently with a spatula. Add the toasted cashew and coconut cream and carefully stir to combine. Simmer for 1 min (if it becomes too thick add a splash of water) and remove from the heat. Lightly season curry with salt and pepper and rest for 2 mins.

TO SERVE:

Serve the rice first onto each plate and then top with the fish curry and place some beans to the side. Garnish with the chopped coriander.
Ingredients
In your box:
1 pack of tarakihi fish fillets
1 pot of green curry
1 pack of steamed pumpkin
1 pack of basmati rice
1 pack of green beans
1 pack of coriander
1 pot of toasted cashew and coconut cream
SHARE YOUR CREATION WITH US!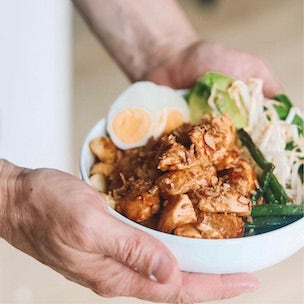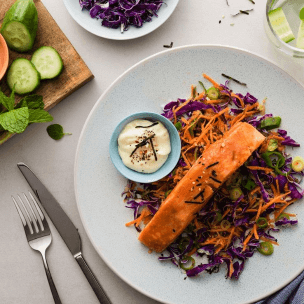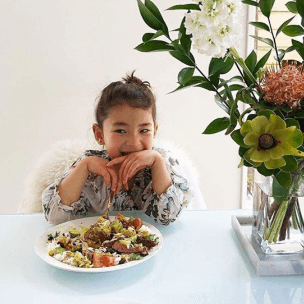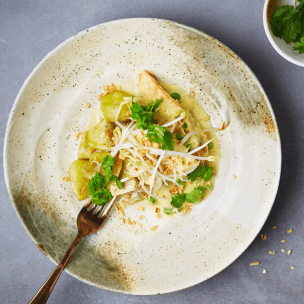 use the hashtag #woopnz to be featured