Chorizo, parmesan and warm new potato and red onion salad
RECIPE FACT:
There were no beaches in Barcelona until 1992. The seaside of Barcelona was full of local industries up until the city decided to host the Olympic Games.
Nutritional Info:
Energy: 3689kj (881Kcal)
Protein: 34g
Carbohydrate: 42g
Fat: 61g
Contains: Egg, Milk, Tree Nuts
Serving Amount:
Serves 2 people
Cooking Instructions:
1. TO PREPARE THE CHORIZO, RED ONION AND CHERRY TOMATOES:

Dice the chorizo into 1 cm cubes. Thinly slice the red onion. Cut the cherry tomatoes in half.

2. TO PREPARE THE POTATOES:

Heat 1 tbsp of cooking oil in a pan over a medium high heat. Once hot, add the steamed new potatoes to the pan and sauté for 5-6 mins to warm them. Spread them out on a platter and set aside to cool a bit.

3. TO COOK THE CHORIZO AND RED ONION:

Using the same pan add 1 tbsp of cooking oil and then add diced chorizo to the pan. Brown for 2 mins, then remove using a slotted spoon (so that the oil remains in the pan with the chorizo flavours) and spread the chorizo over the potatoes. Return the pan to the heat and soften the red onion for 5-6 mins. Lastly, add them to the platter with the chorizo and potatoes. Allow to cool for 5 mins. Fold through half the balsamic mayo and season with salt and pepper to taste.

TO SERVE:

Layer potato, chorizo and red onion mixture into bowls with rocket and cherry tomatoes and top with a good crack of salt and pepper and a dollop of balsamic mayonnaise. Sprinkle over shaved Parmesan and toasted pine nuts.
Ingredients
In your box:
1 pack of chorizo
1 pack of steamed new potatoes
1 pot of balsamic mayonnaise
1 pot of shaved Parmesan and toasted pine nuts
1 bag of rocket
1 bag of cherry tomatoes
1 red onion
SHARE YOUR CREATION WITH US!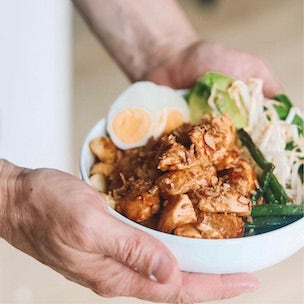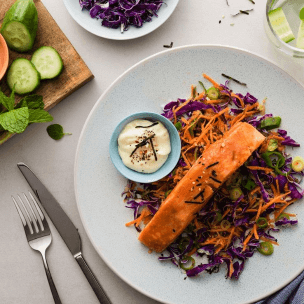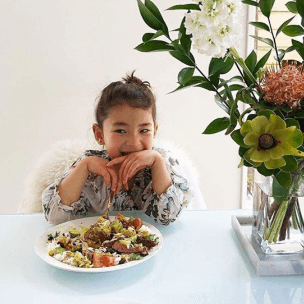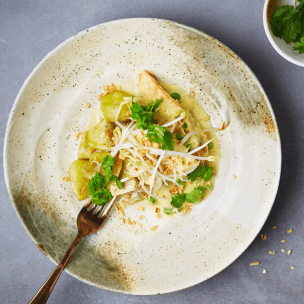 use the hashtag #woopnz to be featured