Chicken tikka masala and kumara
with chickpeas, corn, baby spinach and broccolini
RECIPE FACT:
It is believed that chicken tikka masala was invented in Glasgow Scotland by Ali Ahmed Aslam
Nutritional Info:
Energy: 2544kj (608Kcal)
Protein: 41g
Carbohydrate: 41g
Fat: 31g
Contains: Milk, Egg
Serving Amount:
Serves 4 people
Cooking Instructions:
Before cooking:

Preheat the oven to 220⁰C (fan bake).

1. TO COOK THE TIKKA MASALA ROAST:

Remove the chicken thighs from their packaging and pat dry with a paper towel. Cut each piece of chicken into two then place into a bowl. Add the tikka masala sauce and mix into the chicken pieces making sure to coat each piece well. Spread the masala chickpeas and corn evenly across an oven dish lined with baking paper then arrange the tikka masala chicken over the top. Finally place the steamed kumara around the chicken and drizzle with 2 tbsps of olive oil. Place into the preheated oven and cook for 25 mins.

2. TO COOK THE BROCCOLINI:

Bring a medium sized pot of water to the boil over a high-heat. Trim the ends off the broccolini and discard. Once the water is boiling, add the broccolini with ½ tsp of salt and boil for 2-3 mins. Drain into a colander.

TO SERVE:

Place a small scattering of baby spinach and broccolini florets on each plate then a serving of kumara, chickpeas and corn. Top with pieces of chicken. Dollop the sumac mayo on the chicken.
Ingredients
In your box:
1 pack of chicken thighs
1 pack of steamed kumara
1 pot of tikka masala sauce
1 bag of broccolini
1 pot of masala chickpeas and corn
1 pack of baby spinach
1 pot of sumac mayo
SHARE YOUR CREATION WITH US!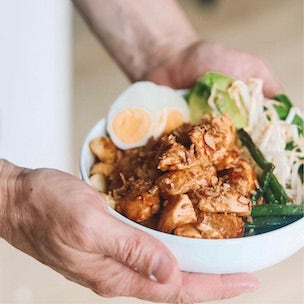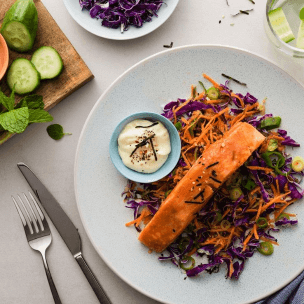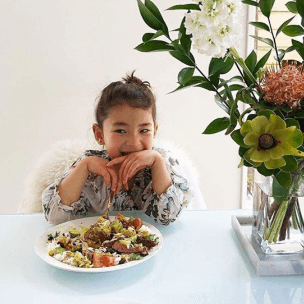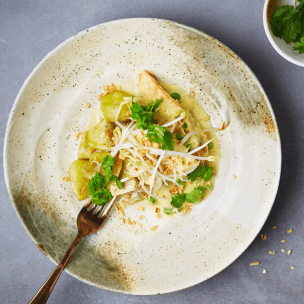 use the hashtag #woopnz to be featured