Chicken Parmigiana
with balsamic roasted vegetables
RECIPE FACT:
This is a lighter version of the Aussie classic comfort dish. Ours packs in half a plate of vegetables for a filling, healthy meal.
Nutritional Info:
Energy: 2260kj (540Kcal)
Protein: 43g
Carbohydrate: 35g
Fat: 20g
Contains: Sulphites, Milk, Gluten
Serving Amount:
Serves 1 person
Cooking Instructions:
Before cooking:

PREHEAT THE OVEN TO 210⁰C (FAN BAKE).

1. TO COOK THE CHICKEN AND VEGETABLES:

Remove the free-range chicken breast from its packaging and pat dry with a paper towel. Place onto an oven tray lined with baking paper. Season with salt and pepper and spoon the ragout sauce evenly over the chicken breast. Using half the red onion, peel and cut into 1 cm thick wedges, add to the baking tray. Add the steamed potato, spray with oil and season with salt. Cook in the preheated oven for 12 mins (before adding the beans and crumb).

2. TO COOK THE GREEN BEANS AND ASSEMBLE THE PARMIGIANA:

Trim the ends off the green beans. Once the chicken and vegetables have been cooking for 12 mins, remove the oven tray from the oven and add the beans to the tray. Sprinkle the parmesan crumb on the chicken breast and place back in the oven for a further 6-8 mins until crumbs are golden and chicken is cooked through.

3. TO ASSEMBLE:

Remove baking tray from the oven, remove chicken Parmigiana and slice into 3 pieces and place on a plate. Add baby kale and the balsamic dressing to the baking tray and gently toss through vegetables until combined (alternatively toss together in a large salad bowl).

TO SERVE:

Add balsamic dressed vegetables to a plate with the sliced chicken Parmigiana.
Ingredients
In your box:
1 packet of free-range chicken breast
1 pack of steamed potato
1 pot of ragout sauce
1 pot of balsamic dressing
1 sachet of parmesan crumb
1 red onion
1 bag of green beans
1 bag of baby kale
SHARE YOUR CREATION WITH US!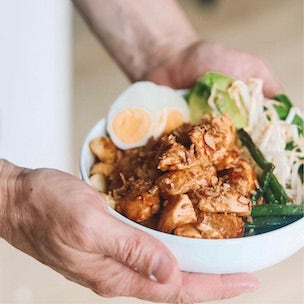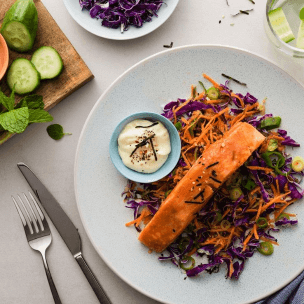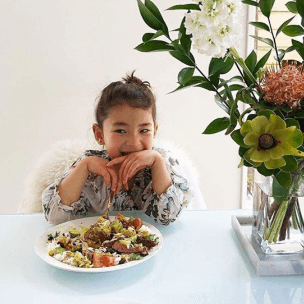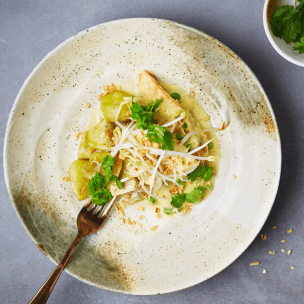 use the hashtag #woopnz to be featured