Chicken katsu
with basmati rice and sesame gingered cabbage
RECIPE FACT:
Shinjuku station is officially the busiest train station in the world, where every day 3.4 million passengers utilize six different train companies operating across 12 different lines
Nutritional Info:
Energy: 2751kj (657Kcal)
Protein: 41g
Carbohydrate: 72g
Fat: 14g
Contains: Milk, Tree Nuts
Serving Amount:
Serves 2 people
Cooking Instructions:
1. TO COOK THE CHICKEN

Remove the chicken breasts from their packaging and pat dry with a paper towel. Cut each chicken breast in half horizontally by holding flat on a board and slicing through sideways. Mix 3 tbsps of flour in a bowl with salt and pepper. Break egg into another bowl and whisk with a fork. Spread panko breadcrumbs on a plate. First dip chicken pieces in flour mix and shake off excess, then dip in egg mix and allow excess to drip off. Finally roll in panko crumbs to coat well. Heat 4-5 tbsps of cooking oil in a non-stick frying pan over a medium high heat. Once hot add the chicken pieces and fry for 2-3 mins on each side – the chicken should become golden, if breadcrumbs are colouring too much turn heat down to medium. Remove from the pan and drain on paper towel.

2. TO COOK THE RICE:

Microwave option (preferred): Place the rice tray in microwave with the seal intact and cook on high (750w) for 2-3 mins or until seal bubbles up. Oven option: Preheat oven to 200°C (fan bake) Place rice in an ovenproof baking dish lined with baking paper and add 1-2 tbsps of water. Cover with tinfoil and heat in oven for 8-10 mins.

3. TO PREPARE THE SESAME GINGERED CABBAGE:

Tip the red and green cabbage into a bowl. Thinly slice the spring onions on the diagonal and add to the bowl. Shake the sesame ginger dressing and stir into the salad to combine well

TO SERVE:

Spoon rice onto plates. Add a serving of sesame gingered cabbage salad and lastly the chicken pieces. Pour katsu sauce over chicken.
Ingredients
In your box:
1 pack of free-range chicken breast
1 tray of rice
1 sachet of panko breadcrumbs
1 pot of katsu sauce
1 pot of sesame ginger dressing
1 bag of red and green cabbage
2 spring onions
SHARE YOUR CREATION WITH US!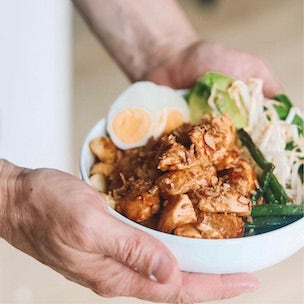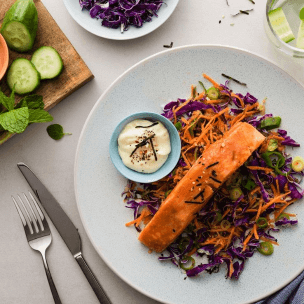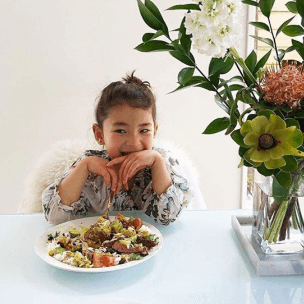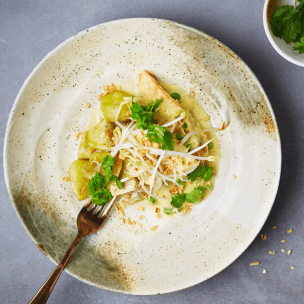 use the hashtag #woopnz to be featured