Cantonese style BBQ pork
with special fried rice and toasted cashews
RECIPE FACT:
Cantonese BBQ pork or char sui is a way of preparing pork and usually consists of a base of hoisin sauce, five spice powder and Chinese cooking wine to create a mix of sweet and salty flavours.
Nutritional Info:
Energy: 2292kj (547Kcal)
Protein: 51g
Carbohydrate: 44g
Fat: 24g
Contains: Soy, Gluten, Egg, Sesame, Tree Nuts
Serving Amount:
Serves 1 person
Cooking Instructions:
1. TO PREPARE THE EGG:

Break one of the free-range eggs into a small bowl, season with salt and whisk with a fork. Slice the spring onions finely on the diagonal.

2. TO COOK THE BBQ PORK:

Spray a frying pan with oil and place over a medium-high heat. Once hot add the char sui pork medallions and cook on each side for 2-3 mins – a little longer on each side if the pork medallions are thick in size. Remove from the pan, cover and let rest for 1-2 mins before slicing thinly.

3. TO COOK THE SPECIAL FRIED RICE:

Spray a non-stick wok or deep sided frying pan with oil and place over a medium-high heat. Once hot add the diced carrot and celery and season with salt. Cook stirring occasionally for 2-3 mins. Open the bag of steamed black and brown rice, squeezing gently on the bag to break up any large clumps. Add the rice and half the spring onion and cook stirring occasionally for 1-2 mins. Move the rice and vegetables to the side of the pan and add the egg and cook for 1-2 mins. Scramble lightly, add the peas and fold through the rice and vegetables. Pour in the sesame seasoning, sliced green cabbage and stir to combine. Remove from the heat.

TO SERVE:

Spoon special fried rice into a bowl and top with sliced bbq pork. Sprinkle with toasted cashew nuts and remaining spring onion.
Ingredients
In your box:
1 pack of char sui pork medallions
1 pack of free-range eggs
1 pack of black and brown steamed rice
1 pot of sesame seasoning
1 sachet of toasted cashew nuts
1 pot of peas
1 pack of diced carrot and celery
1 bag of sliced green cabbage
1 Spring onion
SHARE YOUR CREATION WITH US!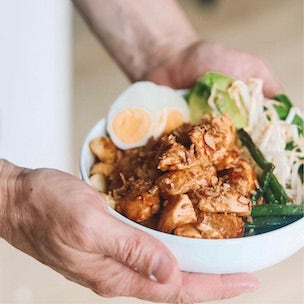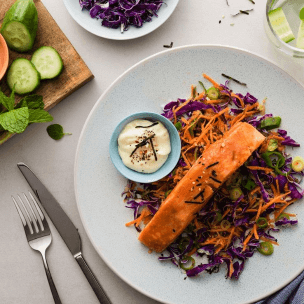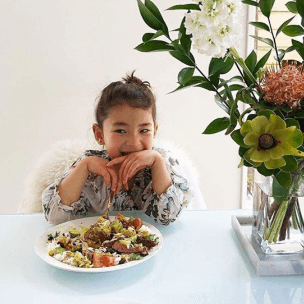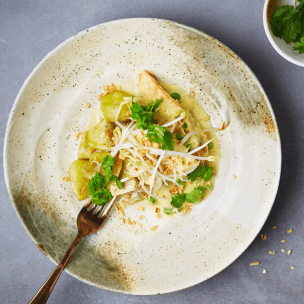 use the hashtag #woopnz to be featured