Buffalo Chicken Burger
with crispy broccolini and ranch mayo
RECIPE FACT:
Buffalo chickens name comes from where buffalo chicken was first invented, The Anchor Bar located in Buffalo, New York.
Nutritional Info:
Energy: 2548kj (608Kcal)
Protein: 34g
Carbohydrate: 15g
Fat: 45g
Contains: Gluten, Milk, Sesame, Sulphites, Egg
Serving Amount:
Serves 4 people
Cooking Instructions:
Before cooking:

Preheat oven to 210°C fan bake.

1. TO COOK THE BROCCOLINI AND WARM THE BUNS:

Trim the ends off the broccolini and discard. Place on an oven tray lined with baking paper. Drizzle with olive oil and season with salt and pepper. Cook in the pre-heated oven for 10-12 mins. Cut the hamburger buns in half, wrap in tinfoil and place into the preheated oven to warm for 8 mins. Trim the end off the baby cos lettuce and discard any damaged leaves then separate the leaves and set aside.

2. TO COOK THE BUFFALO CHICKEN:

Remove the free-range chicken thighs from their packaging and pat dry with a paper towel. Cut each thigh into 3 even pieces. Heat 1 tbsp of oil in a non-stick frying pan over a medium-high heat. Once the oil is hot add the chicken to the pan and fry for 3-4 mins each side. Pour over the Buffalo sauce and cook for 30-60 secs and toss to coat.

TO SERVE:

Spread some ranch dressing on the base of each bun. Top with a few baby cos lettuce leaves followed by 3 pieces of buffalo chicken. Finish off with a couple of pieces of pickled cucumber. Serve the broccolini on the side with remaining cos lettuce and ranch dressing.
Ingredients
In your box:
1 pack of free-range chicken thighs
1 baby cos lettuce
1 pack of hamburger buns
1 pack of broccolini
1 pot of cucumber pickles
1 pot of buffalo sauce
1 pot of ranch dressing
SHARE YOUR CREATION WITH US!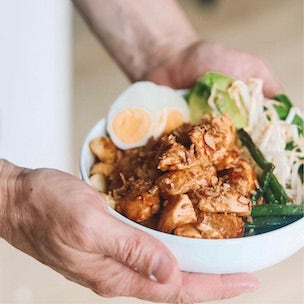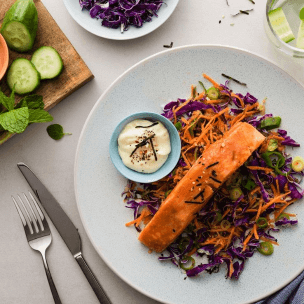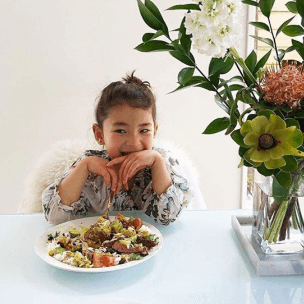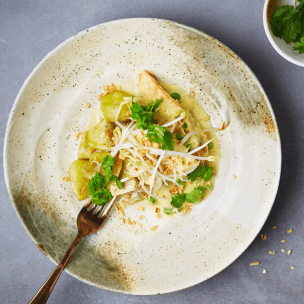 use the hashtag #woopnz to be featured