Black bean and chipotle mole
with citrus confetti rice and avocado cream
RECIPE FACT:
In Mexico, mole is the Spanish word for sauce which usually consist of chilli, spices and fruit as the key ingredients.
Nutritional Info:
Energy: 3102kj (741Kcal)
Protein: 21g
Carbohydrate: 80g
Fat: 33g
Contains:
Serving Amount:
Serves 4 people
Cooking Instructions:
1. TO PREPARE THE VEGETABLES:

Slice the silverbeet into ½ cm strips discarding the stalk. Roughly chop the coriander including the stalks. Place the black beans into a sieve and rinse under cold running water. Allow to drain well.

2. TO PREPARE THE CONFETTI RICE:

Place a non-stick frying pan over a medium-high heat with a drizzle of olive oil. Once hot add the corn and cook for 4-5 mins stirring occasionally to create a char. Open the bag of brown and red rice squeezing gently on the bag to break up any large clumps add to the pan and season with salt. Cook stirring regularly for 1-2 mins. Add the silverbeet and sliced red and green cabbage and cook for a further 1-2 mins. Remove from the pan and add to a salad bowl, cover to keep warm. Add half the coriander. Just before serving, pour in citrus dressing, season with salt and pepper and toss to combine.

3. TO COOK THE CHIPOTLE MOLE AND BLACK BEANS

Wipe out the frying pan and place back over a medium heat with a drizzle of olive oil. Once hot add the black beans and cook for 1-2 min. Add the chipotle mole to the pan and cook for 2-3 mins until heated.

TO SERVE:

Spoon citrus confetti rice into bowls and top with black beans and chipotle mole. Dollop with avocado cream and sprinkle with remaining coriander.
Ingredients
In your box:
2 tins of black beans
1 pack of brown and red rice
1 pot of chipotle mole
1 pot of avocado cream
1 pot of citrus dressing
1 bag of sliced red and green cabbage
1 bag of silverbeet
1 pot of corn
1 bag of coriander
SHARE YOUR CREATION WITH US!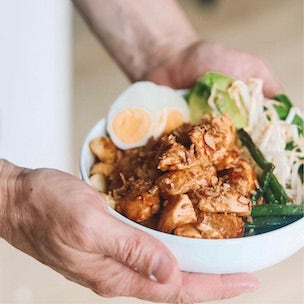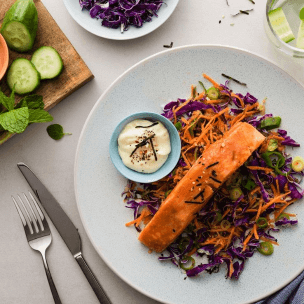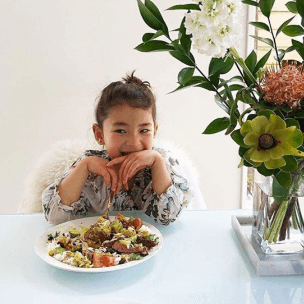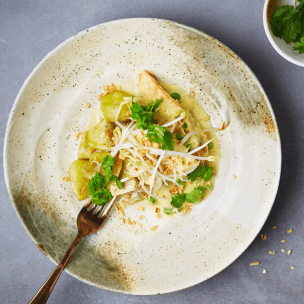 use the hashtag #woopnz to be featured