Aji verde chciken
with brocollini and roast capsicum
RECIPE FACT:
There are over 3,000 different varieties of potato grown in Peru.
Nutritional Info:
Energy: 2468kj (589Kcal)
Protein: 59g
Carbohydrate: 43g
Fat: 24g
Contains: Milk, Egg
Serving Amount:
Serves 4 people
Cooking Instructions:
Before cooking:

Preheat the oven to 210°C (fan bake).

1. TO COOK THE GOURMET POTATOES:

Spread the steamed gourmet potatoes on an oven tray lined with baking paper and drizzle with 1-2 tbsps of olive oil and season with salt. Turn to coat well. Bake in the pre heated oven for 15 mins. Add the peas and corn over the gourmet potatoes and then top with tasty cheese. Place back in the oven for 5 mins.

2. TO COOK THE CHICKEN:

Remove the free-range chicken breasts from their packaging and pat dry with paper towel. Lay the chicken flat on a chopping board and cut in half horizontally. Place on an oven tray lined with baking paper. Drizzle with 1 tbsp of olive oil and sprinkle over Peruvian spices. Cook for 10-12 mins. Remove from the oven and set aside.

3. TO PREPARE THE SALAD:

Remove the leaves from the Italian parsley and roughly chop, thinly slice the spring onions on the diagonal into thin slices, dice the tomato into 1 cm cubes, trim the root end of the baby cos and discard. Thinly slice the cos lettuce into 1 cm strips. Add all to a bowl. Before serving dress with a drizzle of olive oil and season with salt and pepper.

TO SERVE:

Arrange gourmet potatoes and vegetables on plates, top with chicken pieces and then spoon over aji verde sauce. Serve salad on the side.
Ingredients
In your box:
1 pack of free-range chicken breast
1 pack of steamed gourmet potatoes
1 sachet of Peruvian spices
1 pot of aji verde sauce
1 pot of grated tasty cheese
1 pot of peas and corn
1 pack of Italian parsley
2 spring onion
1 tomato
1 baby cos lettuce
SHARE YOUR CREATION WITH US!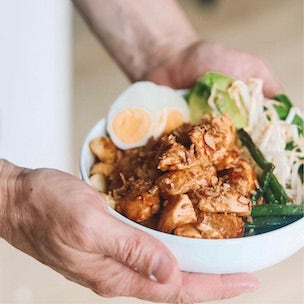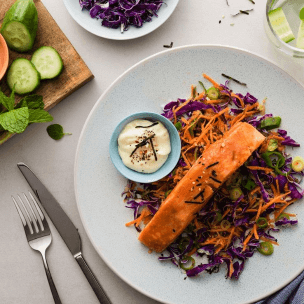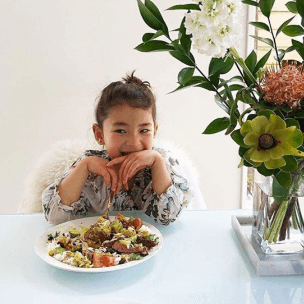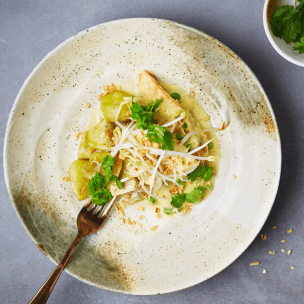 use the hashtag #woopnz to be featured