Turkish chicken
with a grape cacik and walnut buckwheat salad
RECIPE FACT:
Istanbul's Grand Bazaar dates to 1455 and is one of the world's oldest and biggest malls.
Nutritional Info:
Energy: 2571kj (614Kcal)
Protein: 47g
Carbohydrate: 35g
Fat: 32g
Contains: Milk, Tree Nuts
Serving Amount:
Serves 1 person
Cooking Instructions:
Before cooking

Bring a pot of salted water to the boil over a high heat.

1. TO MAKE THE GRAPE CACIK AND MARINATE THE CHICKEN:

Cut the grapes in half and add to a small bowl with the dill yoghurt and mix to combine. Remove the free-range chicken breast from its packaging and pat dry with paper towel. Cut chicken breast in half horizontally by holding flat on a board and slicing through sideways. Place into a bowl with the Turkish marinade and turn to coat

2. TO COOK THE BUCKWHEAT SALAD:

Rinse the buckwheat in a colander. Place the buckwheat in the pot and cover with boiling water and bring back to the boil over a medium high heat. Once up to the boil reduce to a simmer and cook for 15 mins. Drain buckwheat in a colander then add to a serving bowl with the baby spinach.

3. TO MAKE THE SALAD:

Bring a pot of salted water to the boil over a high heat. Trim the ends off the green beans and cut in half. Cook in the boiling water for 3 mins then drain into a colander. Dice the cucumber in to 1 cm cubes. Add beans and cucumber to the buckwheat with 1 tbsp of olive oil and season with salt and pepper and mix to combine.

4. TO COOK THE TURKISH CHICKEN:

Heat a non-stick pan over a medium high heat. When the pan is hot add the chicken breast and cook for 2-3 mins each side. Remove from the pan and season with salt and pepper.

TO SERVE:

Place the buckwheat salad onto a plate. Top with Turkish chicken, a dollop of grape cacik and sprinkle with toasted walnuts.
Ingredients
In your box:
1 pack of free-range chicken breasts
1 bag of baby spinach
1 cucumber
1 pack of green beans
1 pack of spiced buckwheat
1 pack of grapes
1 pot of dill yoghurt
1 pot of Turkish marinade
1 sachet of toasted walnuts
SHARE YOUR CREATION WITH US!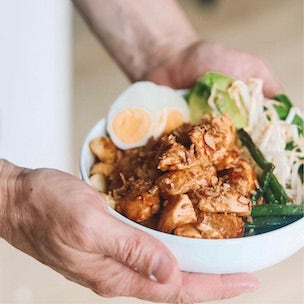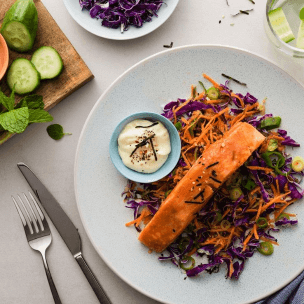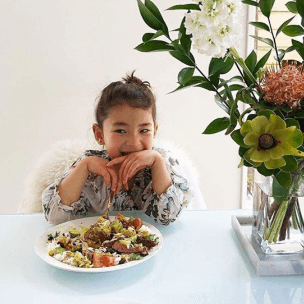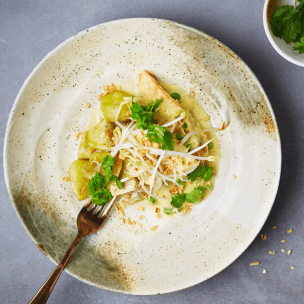 use the hashtag #woopnz to be featured