Shaking garlic and lime tofu
with Vietnamese style vegetables and crispy black rice
RECIPE FACT:
This dish is called 'shaking' because it's usually made in a wok which is shaken around as it cooks. You can use this technique too if you like and have strong arms.
Nutritional Info:
Energy: 2608kj (623Kcal)
Protein: 38g
Carbohydrate: 70g
Fat: 30g
Contains: Soy, Gluten
Serving Amount:
Serves 1 person
Cooking Instructions:
1. TO PREPARE THE VEGETABLES:

Rinse the bok choy under water and cut off the root end and discard. Slice the stalks into 1 cm strips and the roughly chop the leaves. Using half the carrot, peel and make ribbons by running a peeler the full length along the carrot, rotating after each peel. Using quarter of the broccoli, cut into small bite sized florets. Finely slice the spring onion on the diagonal. Using half the pack of tofu, slice into 1 cm slices and place in a dish with the garlic and lime marinade. Leave to marinade while you cook the vegetables.

2. TO COOK THE VIETNAMESE VEGETABLES AND RICE:

Place a non-stick wok or frying pan over a medium-high heat with a drizzle of oil. Add the broccoli and cook for 5-6 mins stirring occasionally to create a char. Add the bok choy and carrot to the pan and cook for 1-2 mins. Season with salt and add to a salad bowl. Place the pan back over the heat with a drizzle of olive oil. Open the Open the bag of steamed black rice, squeezing gently on the bag to break up any large clumps. Once the pan is hot add half the spring onion, rice and season with salt. Cook for 4-5 mins. Add to the salad bowl. Just before serving, pour in the Vietnamese dressing and toss to combine.

3. TO COOK THE SHAKING GINGER AND LIME TOFU:

Wipe out the wok or pan, drizzle with oil and place back over a medium-high heat. Once hot, add the tofu, season with salt and cook for 2-3 mins on both sides. Pour in the ginger and lime marinade and cook for 30-60 secs.

TO SERVE:

Spoon Vietnamese style vegetables and black rice into a bowl and top with shaking ginger and lime tofu. Sprinkle with crispy shallots and remaining spring onion.
Ingredients
In your box:
1 pack of tofu
1 pack of steamed black rice
1 pot of garlic and lime marinade
1 pot of Vietnamese dressing
1 sachet of crispy shallots
1 carrot
1 broccoli
1 bag of bok choy
SHARE YOUR CREATION WITH US!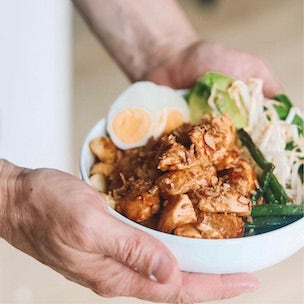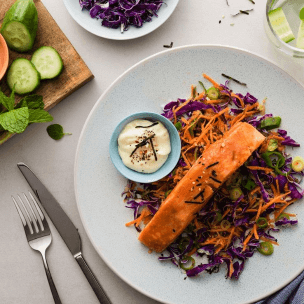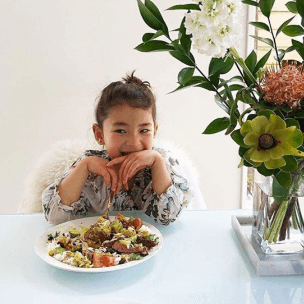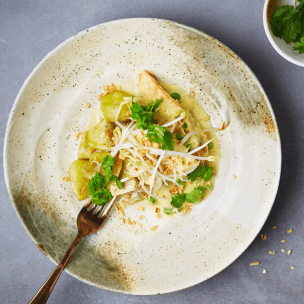 use the hashtag #woopnz to be featured