Parmesan and herb crumbed pork medallions
with green beans, pea and lemon cream fettuccine
RECIPE FACT:
Parmesan cheese dates to 1612.
Nutritional Info:
Energy: 2462kj (588Kcal)
Protein: 46g
Carbohydrate: 16g
Fat: 35g
Contains: Gluten, Egg, Milk, Sulphites
Serving Amount:
Serves 4 people
Cooking Instructions:
Before cooking:

Preheat the oven to 200°C (fan bake). Bring a pot of water to boil.

1. TO COOK THE PORK MEDALLIONS:

Whisk an egg in a shallow bowl with a fork. Spread the Parmesan and herb crumb out on a plate. Remove the pork medallions from their packaging and pat dry with a paper towel. Dip each medallion into the egg and turn to coat well. Allow excess to drip off and then coat each medallion in the crumb mixture. Heat 1-2 tbsps of olive oil in a non-stick frying pan over a medium-high heat and once hot add the medallions to the pan. Brown on each side for 2-3 mins then place on an oven tray lined with baking paper and finish in the preheated oven for 10 mins. Remove and slice each medallion in half.

2. TO COOK THE FETTUCCINE AND VEGETABLES:

Trim the ends off the green beans and cut in half. Finely chop the curly parsley and set aside until serving. Once the water is boiling season with salt and add the fresh fettuccine separating the pasta strands, so they do not stick together. Cook for 3 mins – after 1 min add the peas and beans to the pot. Drain into a colander reserving some of the cooking water. Return the fettuccine, beans, peas and water to the pot over a low heat. Stir in the lemon cream sauce and baby spinach and warm for1-2 mins.

TO SERVE:

Twist the fettuccine and vegetables into bowls and pour over any sauce. Top with pork medallions. Sprinkle over parsley.
Ingredients
In your box:
1 pack of pork medallions
1 pack of fresh fettuccine
1 pot of lemon cream sauce
1 pack of Parmesan and herb crumb
1 pot of peas
1 bag of green beans
1 bag of curly parsley
1 bag of baby spinach
SHARE YOUR CREATION WITH US!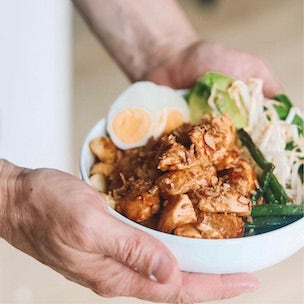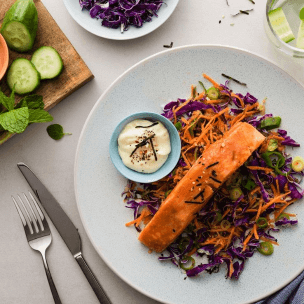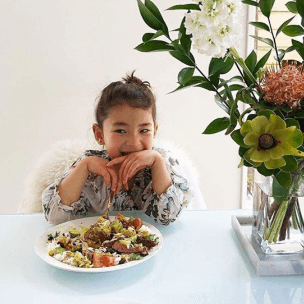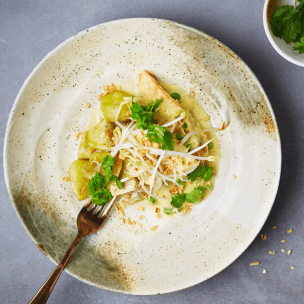 use the hashtag #woopnz to be featured