Panfried salmon
with chraimeh sauce, lemon dressed kale, pea and quinoa
RECIPE FACT:
The Dead Sea in Israel is the lowest point on earth, at 1,315 feet below sea level at its lowest point.
Nutritional Info:
Energy: 3690kj (881Kcal)
Protein: 49g
Carbohydrate: 51g
Fat: 55g
Contains: Fish
Serving Amount:
Serves 2 people
Cooking Instructions:
1. TO HEAT THE QUINOA:

Heat a drizzle of olive oil in a non-stick pan over a medium heat. Empty the quinoa into the pan and cook stirring often for 1-2 mins until warmed through. Add to a serving dish. Shake the lemon dressing and stir through the quinoa.

2. TO PREPARE AND COOK THE KALE AND PEAS:

Boil the kettle. Meanwhile finely chop the kale discarding any coarse stalks. Once the kettle has boiled fill a medium pot with water and bring up to the boil over a high heat. Add the kale and blanch for 2 mins then add the peas and cook for a further minute. Drain into a colander and fold through the quinoa.

3. TO COOK THE SALMON:

Heat 1 tbsp of cooking oil in a non-stick frying pan over a medium-high heat. Once hot add the salmon skin side down, season with salt and cook for 2 mins. Carefully turn the salmon over with tongs and reduce the heat to medium and pour the chraimeh sauce around the salmon and cook for a further 2 mins.

TO SERVE:

Spoon quinoa, kale and peas onto plates. Top with salmon and pour over chraimeh sauce.
Ingredients
In your box:
1 pack of salmon
1 bag of steamed quinoa
1 pot of chraimeh sauce
1 pot of lemon dressing
1 pot of peas
Kale
SHARE YOUR CREATION WITH US!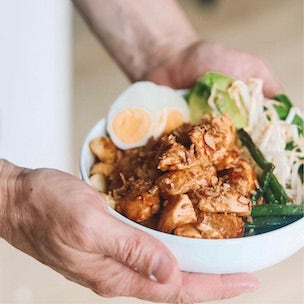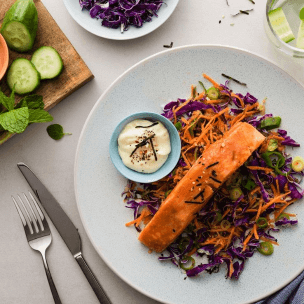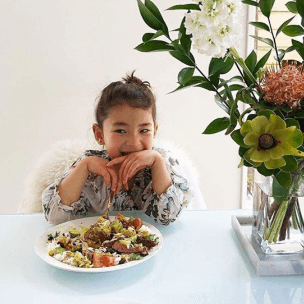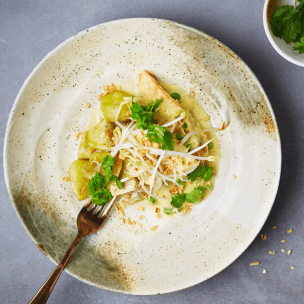 use the hashtag #woopnz to be featured