Moroccan spiced lamb kofta
with freekeh and feta drizzle
RECIPE FACT:
Freekeh is a high-fibre grain that's also a good source of protein.
Nutritional Info:
Energy: 2248kj (537Kcal)
Protein: 38g
Carbohydrate: 32g
Fat: 25g
Contains: Gluten, Milk, Tree Nuts
Serving Amount:
Serves 4 people
Cooking Instructions:
1. TO PREPARE THE FREEKEH SALAD:

Cut the broccolini into small bite sized pieces. Spray a frying pan with oil and place over a medium-high heat. Once hot add the broccoli and cook for 4-5 mins stirring occasionally to create a char. Add the corn and capsicum and cook for 1-2 mins. Open the bag of steamed freekeh squeezing gently on the bag to break up the large clumps and add to the pan. Cook for a further 2-3 mins. Season with salt and remove from the pan into a salad bowl.

2. TO COOK THE MOROCCAN SPICED KOFTA:

Open the bag of Moroccan seasoned lamb mince and place into a small bowl. Season well with salt and shape into several small sausage shapes about 4 cm long or just smaller than your palm. Respray the frying pan with oil and place over a medium-high heat. Once hot add the kebabs to the pan and cook turning regularly for 6-8 mins - adjusting the heat if necessary.

3. TO ASSEMBLE:

Add the rocket and the pomegranate dressing to the salad bowl and toss to combine.

TO SERVE:

Spoon the freekeh and broccolini onto serving plates. Top with Moroccan spiced kofta and spoon on feta drizzle. Sprinkle with the pistachio sprinkle.
Ingredients
In your box:
1 pack Moroccan spiced lamb mince
1 bag of steamed freekeh
1 pot of feta drizzle
1 pot of pomegranate dressing
1 pot corn and capsicum
1 pack of pistachio sprinkle
1 bag of broccolini
1 bag of rocket
SHARE YOUR CREATION WITH US!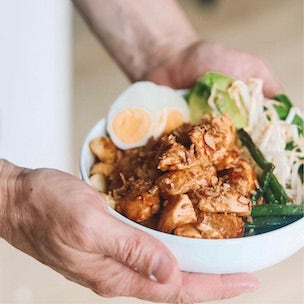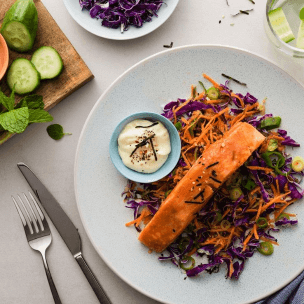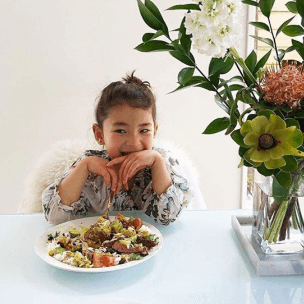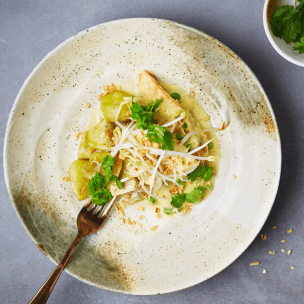 use the hashtag #woopnz to be featured