RECIPE FACT:
Gado gado is a famous Indonesian salad that literally means "mix-mix". It can contain a wide variety of different vegetables.
Nutritional Info:
Energy: 3117kj (744Kcal)
Protein: 28g
Carbohydrate: 95g
Fat: 28g
Contains: Soy & Peanuts
Serving Amount:
Serves 2 people
Cooking Instructions:
1. TO PREPARE THE VEGETABLES:

Trim the woody ends off the broccolini and cut into bite sized pieces. Place a non-stick frying pan over a medium-high heat with a drizzle of oil. Once hot add the broccolini to the pan, season with salt and cook for 4-5 mins stirring occasionally to create a char. Remove from the pan.

2. TO COOK THE GARLIC POTATOES:

Cut the spring onions finely on the diagonal. Wipe out the frying pan, place back over a medium heat and pour in the garlic oil. Once hot add the steamed gourmet potatoes and fry for 7-8 mins until heated and caramelised around the edges. Add the spring onions and cook for a further minute. Season with salt, remove from the pan and cover to keep warm.

3. TO COOK THE GINGER AND HONEY TOFU:

Remove the ginger and honey tofu from its packaging reserving the sauce. Slice the tofu into 1 cm slices. Wipe out the pan and place back over a medium-high heat with a drizzle of oil. Cook the tofu for 2-3 mins each side. Pour in the reserved sauce and cook for 30-60 secs until reduced.

TO SERVE:

Place handfuls of baby spinach into bowls. Top with pan fried potatoes and broccolini. Place ginger and honey tofu on the side with the bean sprouts. Dollop with peanut satay sauce and sprinkle with chopped peanuts and shallots. Mix together to eat.
Ingredients
In your box:
1 pack of honey and ginger tofu
1 bag of steamed gourmet potatoes
1 pot of garlic oil
1 pot of peanut satay
1 sachet of toasted peanuts and shallots
1 bag of mung beans
1 bag of broccolini
1 bag of baby spinach
2 spring onions
SHARE YOUR CREATION WITH US!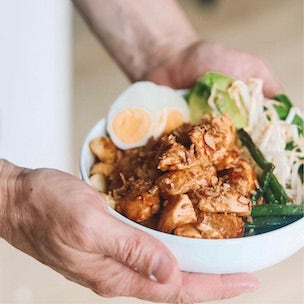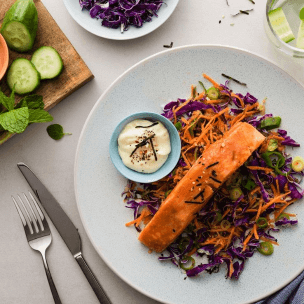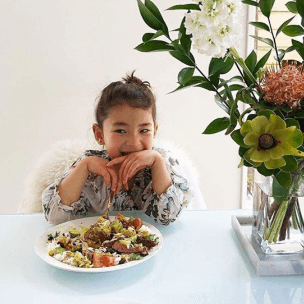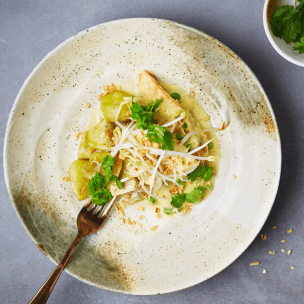 use the hashtag #woopnz to be featured