Cumin and lime salmon
with coriander yoghurt and warm quinoa
RECIPE FACT:
Quinoa is a seed, not a grain and is a complete protein, containing all the essential amino acids.
Nutritional Info:
Energy: 2480kj (592Kcal)
Protein: 38g
Carbohydrate: 35g
Fat: 33g
Contains: Fish, Milk
Serving Amount:
Serves 1 person
Cooking Instructions:
Before cooking:

PREHEAT THE OVEN TO 200⁰C (FAN BAKE).

1. TO COOK THE SALMON

Place salmon skin side down on an oven tray lined with baking paper. Rub the flesh side with the cumin and lime marinade and bake in the preheated oven for 8-12 mins.

2. TO MAKE THE SALSA AND YOGHURT:

: Using half the tomato, dice into 1 cm cubes. Using half the cucumber, peel and dice into 1 cm cubes. Thinly slice the spring onion. Mix tomatoes, cucumber and spring onion together in a bowl and season with salt and pepper. Set aside until serving. Roughly chop the coriander including the stalk which has lots of flavour. Mix in another bowl with the yoghurt.

3. TO WARM THE QUINOA, BEANS AND CORN:

Spray oil into a non-stick frying pan and place over a medium heat. Once hot add the steamed quinoa, black beans and corn and warm through for 2-3 mins. Season with salt and pepper to taste.

TO SERVE:

Spoon quinoa, bean and corn mix into a bowl. Spoon in tomato, cucumber and spring onion salsa. Top with salmon and dollop with coriander yoghurt. Lastly sprinkle over spiced pepitas.
Ingredients
In your box:
1 pack of salmon
1 pack of steamed quinoa
1 pot of black beans and corn
1 pot of cumin and lime marinade
1 pot of yoghurt
1 sachet of spiced pepitas
1 Tomato
2 Spring Onions
1 Cucumber
1 bag of coriander
SHARE YOUR CREATION WITH US!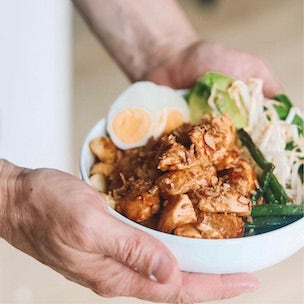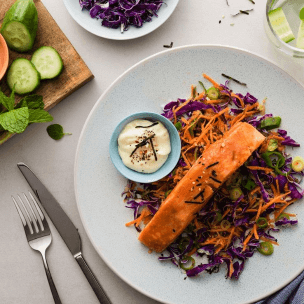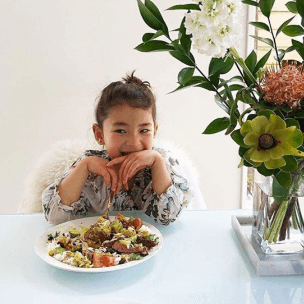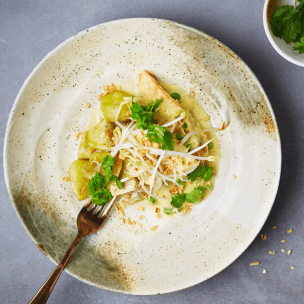 use the hashtag #woopnz to be featured