Asparagus and egg Caesar
with Turkish croutons and coconut bacon
RECIPE FACT:
Caesar salad was invented at hotel Caesar, in Mexico during the 4th of July celebrations with leftover ingredients from the hotel's kitchen.
Nutritional Info:
Energy: 2500kj (597Kcal)
Protein: 31g
Carbohydrate: 54g
Fat: 29g
Contains: Egg, Gluten, Milk & Soy
Serving Amount:
Serves 1 person
Cooking Instructions:
Before cooking

Preheat the oven to 210⁰c (fan bake). Boil the kettle.

1. TO COOK THE EGGS:

Place boiling water from the kettle into a pot and bring up to the boil over a high heat. Using a spoon add the eggs and cook for 6 mins for a soft-boiled egg - a little longer for hard. Remove from the heat and run under cold water. When the eggs have cooled slightly peel and cut in half (to serve warm).

2. TO MAKE THE CROUTONS AND COOK THE ASPARAGUS

Slice the Turkish bread into 2 cm cubes. Line an oven tray with baking paper. Place the bread cubes on the tray. Snap the woody ends off the asparagus and discard – they will naturally snap in the right place. Lie flat on an oven tray. Drizzle with olive oil and season with salt and pepper. Bake in oven for 10 mins.

3. TO PREPARE THE SALAD:

Place baby cos lettuce leaves into a salad bowl tearing any larger leaves with your hands. Using half the carrot, peel and make ribbons by pulling a peeler the full length along the carrot, rotation after each peel and add to the bowl. Spoon in half the Caesar dressing and toss to combine. Roughly chop the Italian parsley and set aside until serving.

TO SERVE:

Place roasted asparagus onto a plate with Caesar salad and egg halves. Serve with Turkish croutons on the side and pour over remaining dressing. Sprinkle with chopped parsley and coconut bacon.
Ingredients
In your box:
1 pack of free-range eggs
1 bag of Turkish bread
1 pot of Caesar dressing
1 sachet of coconut bacon
1 bunch of asparagus
1 carrot
1 bag of baby cos leaves
1 bag of Italian parsley
SHARE YOUR CREATION WITH US!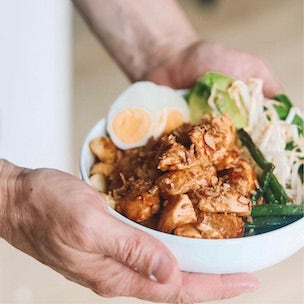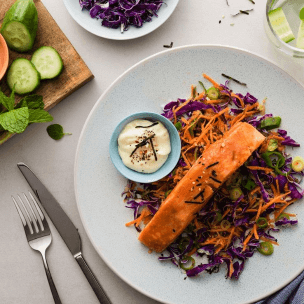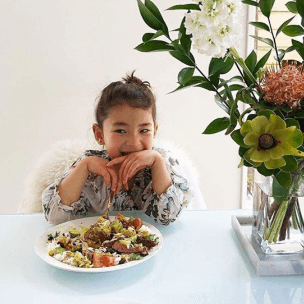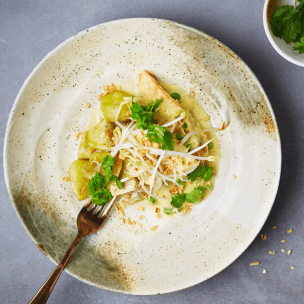 use the hashtag #woopnz to be featured